Giulia Bruna
Donegal native Erminda Rentoul Esler (1860-1924) was a novelist, short-story writer, and journalist who lived and worked in London from 1889. Notably, W. B. Yeats included her in his 1895 articles on Irish National Literature for The Bookman and there referred to her as 'writing charmingly of Presbyterian life in Ireland'.[i] With his entry on Esler in the Dictionary of Irish Biography and an essay in Kathryn Laing and Sinéad Mooney's collection Irish Women Writers at the Turn of the 20th Century,[ii] Patrick Maume has recently made important contributions to the rediscovery and reappraisal of this nearly forgotten Irish writer by addressing gaps regarding her family history, religious background, education, and connections with the London publishing milieu.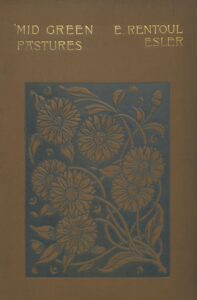 Sinéad Gleeson also included Esler's short story 'An Idealist' in her 2016 anthology The Glass Shore: Short Stories by Women Writers from the North of Ireland. Originally published in Esler's 1895 collection of village idylls 'Mid Green Pastures, 'An Idealist' revolves around a quirky and bookish country girl ­– 'the elder, the plainer, the less popular' daughter of a parson's widow – who pursues a career as an alternative to marriage, and in the process becomes a successful writer of 'brief little sketches…full of reality and sly humour and sweet philosophy, so redolent of the fields and the hills…'.[iii] In what follows, I outline potential avenues of research with regard to Esler's numerous contributions to periodicals and short fiction, many of them writings which are embedded in contemporaneous transnational discourses about genre, Irish identity, and the role of women in society.
'Mrs. E. R. Esler', as she styled herself, was a regular columnist for The Young Woman (1892-1915), a girls' magazine for which she penned 'Between Ourselves: A Friendly Chat with the Girls' from October 1892 until June 1899, an advice column about New Woman topics such as women's professional advancements and economic independence, university education, marriage, and singlehood. Influenced by both New Journalism and New Woman trends,[iv] The Young Woman also published work by leading Irish women writers of the day, including Katharine Tynan, Jane Barlow, and L. T. Meade. Esler's columns include a short editorial and personalized answers to correspondents: these answers range from tips on fashion and etiquette or feedback on writing samples sent by readers who aspired to be professional writers to practical information about and the addresses for places where young women could be trained and educated further and thus enter the professional world. In May 1895, as part of these columns, Esler wrote a piece entitled 'The Women of Ireland'. In it, she is keen to put the Ulster region on the map, praising the progress that has been made in the education of the women of Ulster, especially 'Miss Isabella Tod [who] began to advocate, with voice and pen, University training for her sister-women', and whose work resulted in the 'establishment of University Examinations for women in Ireland'.[v] This and other positive examples from Ulster are juxtaposed against negative stereotypes of Irishness which Esler sees as dangerously pervasive in fiction, namely the stage-Irishman and another emerging reproachable model: the poor, 'improvident', and 'pathetic' Irish.[vi]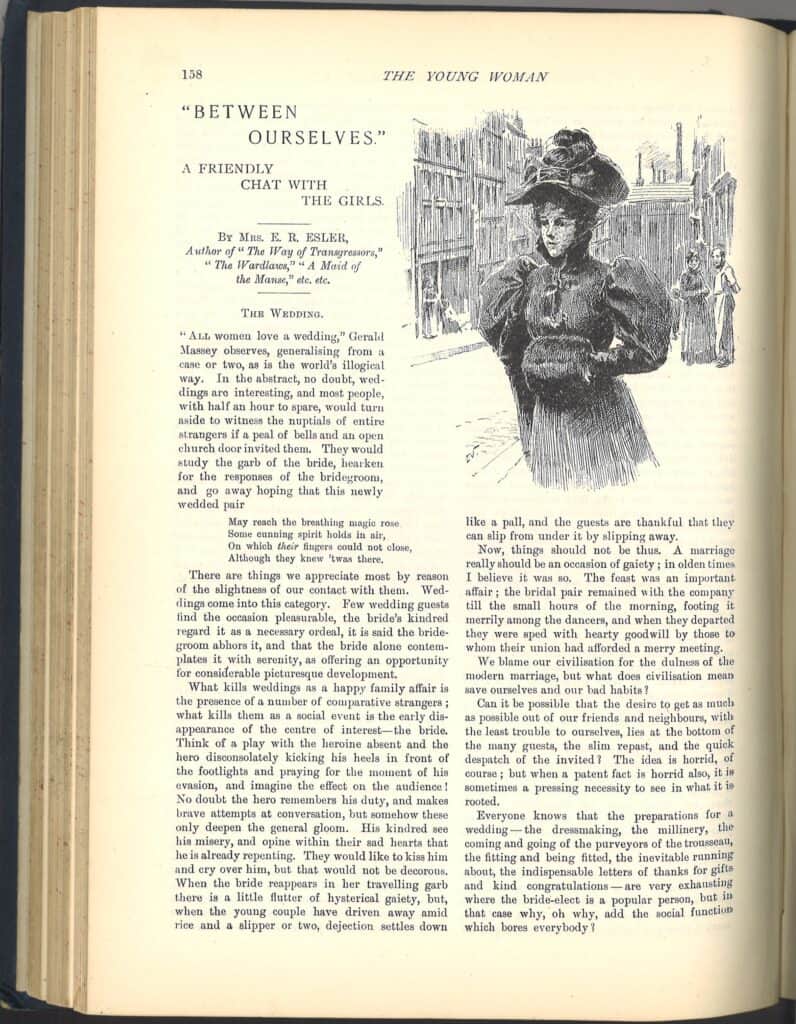 In London, Esler was well connected with writers, editors, and journalists due to her many collaborations with periodicals. An active member of literary clubs and societies, she thus partook in professional women's increased public exposure via networks of sociability. In digitized newspapers and periodicals, Esler is mentioned among the attendees at the Women Writers' Dinner, also known as the Literary Ladies' Dinner, an annual event held at the Criterion Club from 1889 that attracted London's leading women authors.[vii] She was also a member of the Irish Circle of the Lyceum Club, at times chairing their gatherings and offering lectures on Irish subjects.[viii] In the early 1910s, she began contributing to suffragist periodicals in which she is described as a 'keen Suffragist' and a member of the Women Writers' Suffrage League. She likewise attended pro-suffrage 'processions' in London alongside other suffragist groups.[ix]
In addition to her longer fiction (mostly set in Ulster) which has received some critical attention in studies of the nineteenth-century Irish novel,[x] Esler wrote three popular collections of village tales set in a fictional hamlet named Grimpat. Part of a transnational genre of regional or local-colour village literature which was popular in the nineteenth century and also translated in Europe, Esler's stories were reviewed in periodicals and compared to regional writing by the English author Thomas Hardy, the Scottish 'Kailyard' writers J. M. Barrie and Ian Maclaren, the Cornish Arthur Quiller-Couch, South African Olive Schreiner, Irish Tynan and Barlow, and American Mary E. Wilkins Freeman. Her stories also enjoyed some wider international circulation in Europe and the United States.[xi] As was common throughout the nineteenth century, her short fiction was often first published in periodicals that ranged from women's publications like The Woman's Signal to family-oriented magazines such as The British Weekly and The Leisure Hour, among many others.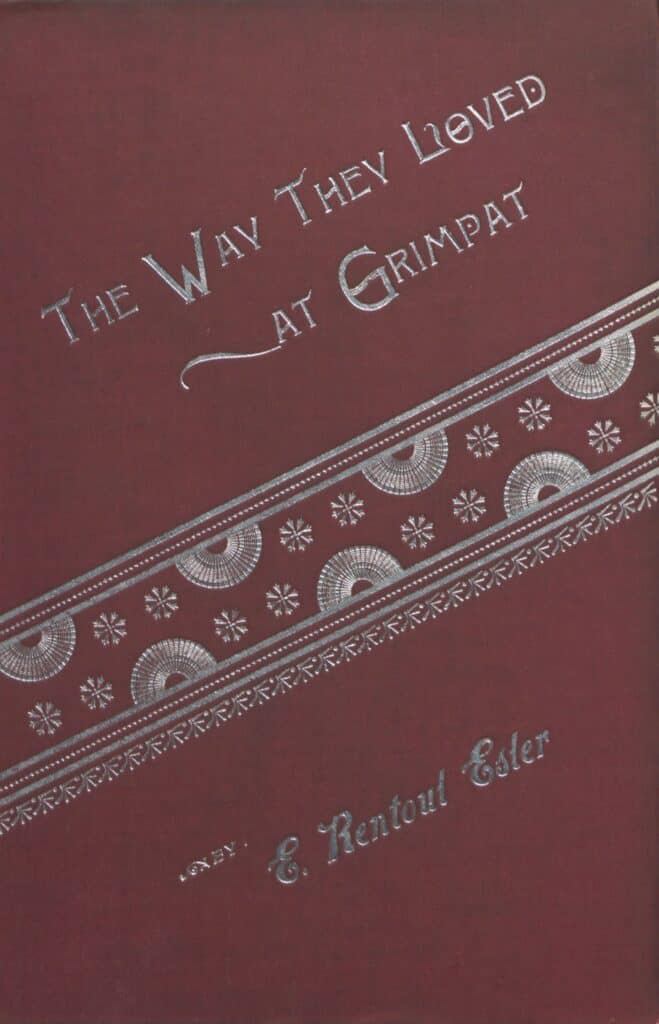 Esler's fictional village of Grimpat cannot readily be associated with any particular location on a map. The stories in which it features generally do not contain mentions of real places (except for a couple of fleeting mentions of London) and her so-called local colour seems underplayed compared to other, more widely known examples of the genre. Unlike the Kailyard counterparts, for example, there is no attempt to render a dialect phonetically. While it is possible to infer that Grimpat is a generalized English village modelled on more famous precursors such as Elizabeth Gaskell's Cranford and Mary Russell Mitford's Three Mile Cross, some Irish reviewers such as Tynan and Irish Homestead editor J. K. Montgomery were especially keen to view it as a Donegal or Ulster village, in line with Esler's previous fiction and family origin.[xii] What contemporaneous reviewers tended to appreciate in the Grimpat stories were the characterizations and sentimentality, which they frequently compared to Wilkins's fiction about New England. Not coincidentally, Esler was also a fan of 'Mrs. Wilkins', often mentioning her in The Young Woman as a reputable example of the 'American School', a welcome contrast to racy French writers, and as a model to emulate for the amateur writers who sought Esler's feedback in these columns.[xiii] Esler's engagement with modes of local-colour writing, moreover, also transcends British or Irish settings. In a story for The Leisure Hour entitled 'A Singer from the South', for instance, Esler composed a peasant idyll set in Italy on the Island of Capri. This time, specific geographical locations such as Anacapri, Capri, Monte Solaro, the Vesuvius, and Naples are clearly indicated in the text, and the characters' dialogues are frequently interspersed with Italian words.[xiv]
Esler's short fiction offers interesting examples of the transnational genre of local-colour fiction, partly informed by her attachment to the Ulster region and influenced by American and British regionalism. As a frequent contributor to periodicals and an active member of women writers', suffragettes', and Irish societies in London along with many of her fellow Irish literary expatriates, Esler's work warrants further research into discourses such as the New Woman, Irish revivalism, and suffragism.
---
Acknowledgement: The research for this blog post was funded by the Netherlands Organization for Scientific Research NWO as part of the 'Redefining the Region' project (PI Prof. Marguérite Corporaal, Project ID: VI.C.181.026, see www.ru.nl/redefiningtheregion).
---
Giulia Bruna is a postdoctoral fellow at Radboud University in Nijmegen, the Netherlands, who is currently researching Erminda Rentoul Esler's local-colour stories as part of a project funded by the Netherlands Organization for Scientific Research (NWO) (www.ru.nl/redefiningtheregion). She is the author of J. M. Synge and Travel Writing of the Irish Revival (Syracuse University Press, 2017), and her research on Synge, the Irish literary revival, Irish travel writing, Irish periodical culture, and nineteenth-century British local-colour fiction has appeared in the Irish Studies Review, Studies in Travel Writing, Journal of Modern Periodical Studies, and Translation and Literature.
---
[i] W. B. Yeats, 'Irish National Literature, II: Contemporary Prose Writers—Mr. O'Grady, Miss Lawless, Miss Barlow, Miss Hopper, and the Folk-Lorist', in Uncollected Prose by W. B. Yeats, vol. 1, ed. by John P. Frayne (London: Macmillan, 1970), pp. 366-75 (p. 371).
[ii] Patrick Maume, 'Esler, Erminda Rentoul,' in Dictionary of Irish Biography, ed. James McGuire and JamesQuinn (Cambridge: Cambridge University Press, 2019) <https://www.dib.ie/biography/esler-erminda-rentoul-a10101> [accessed 1 December 2021]; 'Education, Love, Loneliness, Philanthropy: Erminda Rentoul Esler', in Irish Women Writers at the Turn of the 20th Century: Alternative Histories, New Narratives, ed. by Kathryn Laing and Sinéad Mooney (Brighton: Edward Everett Root Publishers in association with the Irish Women's Writing Network, 2020), pp. 167-178.
[iii] Erminda Rentoul Esler, 'An Idealist', 'Mid Green Pastures (London: Sampson Low, 1895), 140-52 (pp. 143, 151).
[iv] Flora Armetta, David Doughan, and Emma Liggins, 'The Young Woman (1892-1915)', in Dictionary of Nineteenth-Century Journalism, ed. by Laurel Brake and Marysa Demoor (Gent and London: Academia Press and The British Library, 2009), pp. 697-8 (p. 697); Maume, 'Esler, Erminda Rentoul'.
[v] Erminda Rentoul Esler, 'The Women of Ireland: 'Between Ourselves' A Friendly Chat with the Girls', The Young Woman (May 1895), (pp. 284-89) p. 285.
[vi] Esler, 'The Women of Ireland', p. 284.
[vii] 'Where Man is Never Missed', The Sketch, 12 June 1895, p. 386.
[viii] See 'Irish Literary Society: on Mrs. Rentoul-Esler's talk on Irish character as depicted in the earlier novels of Misses Somerville and Ross', The Irish Book Lover 5 (1913), pp. 83-4; 'Irish Literary Society', The Irish Book Lover 6 (1914), pp. 110-11.
[ix] 'Our Point of View: Olive Schreiner: "An Abiding Friend".' The Vote, 2 January 1914, p. 154; 'The Great Procession', The Vote, 25 June 1910, pp. 98-101. In 1914, from 8 May to 7 August, Esler also contributed an unfinished serial set in Ulster entitled 'Wind and Tide' to the weekly magazine The Common Cause.
[x] John Wilson Foster, Irish Novels 1890-1940: New Bearings in Culture and Fiction (Oxford: Oxford University Press, 2008) pp. 86-9; James H. Murphy, Irish Novelists and the Victorian Age (Oxford: Oxford University Press, 2011), p. 241.
[xi] Esler's first collection, The Way They Loved at Grimpat (1893) circulated on the Continent in Tauchnitz editions, and both her first and second collections were printed simultaneously in Britain and in the United States. Some of the Grimpat stories appeared in translation in periodicals and cheap editions in France, Switzerland, Denmark, and Sweden in the early 1900s and 1910s.
[xii] Katharine Tynan, 'Mrs Esler's New Stories', The Young Woman, December 1895, p. 91; J. K. Montgomery, 'Books Old and New: Mrs. Esler's "The Way they Loved at Grimpat",' The Irish Homestead, 25 November 1899, pp. 805-6.
[xiii] '"Between Ourselves:" A Friendly Chat with the Girls By Mrs. Esler', The Young Woman, February 1894, pp. 177-9.
[xiv] Erminda Rentoul Esler, 'A Singer of the South,' The Leisure Hour 1, no. 1 (1899-1900), pp. 24-31.