Ann Moroney
The Irish writer Daisy Bates (1859- 1951), successful and infamous in equal measure in her time, left a journalistic legacy that remains virtually unknown today. Born in Tipperary in 1859 but residing for the majority of her life in the Australian outback, Bates camped with numerous Aboriginal tribes over a period of forty years, studying their rituals, documenting their languages and campaigning for their protection. Establishing herself as a unique authority on Australian Aboriginal life and culture, she was dubbed 'the saviour of the Aborigines' and devoted her career to informing white Australia about the heritage of indigenous peoples.[1] However, Bates's views and writings eventually consolidated into an infamous stereotype of the white coloniser: that of an eccentric old woman in the desert, publishing controversial articles and governing tribes of people she believed too primitive to withstand the onset of modernity. She viewed herself as an imperial leader devoted to what she described as 'the last remnant of a dying race.'[2]
The existing scholarship on Bates is quite challenging to navigate as much of the material is based on the fabrications that Bates herself promoted about her origins, and her autobiography The Passing of the Aborigines (1938) is the primary, often inaccurate, account of her life and work. As a result, it is difficult to encapsulate exactly who Daisy Bates was and what her writings entailed. This polarising figure veered between the labels of ethnographer, anthropologist and journalist throughout her career. She provided extensive content for a burgeoning Australian and British tabloid industry during her lifetime. Although largely a footnote in imperial women's history now, Bates remains an important symbol of early twentieth-century attitudes towards race, language and representation in the dying days of the British empire.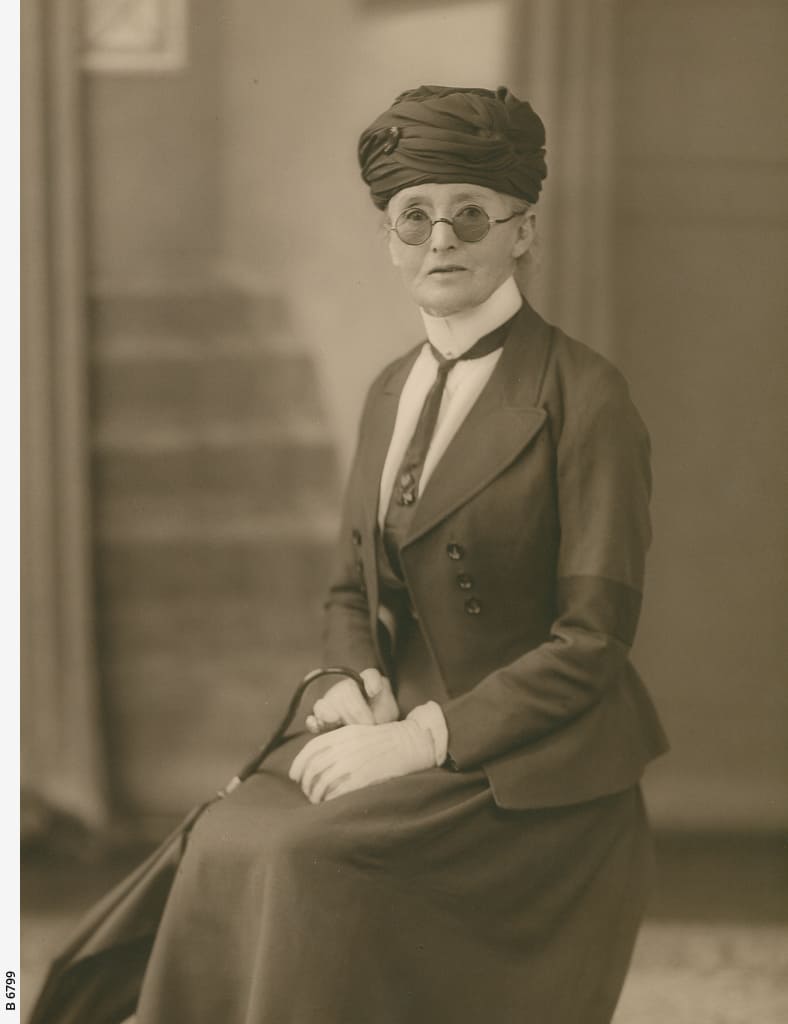 Daisy Bates was born Daisy O'Dwyer in Roscrea, County Tipperary in 1859 to a Catholic shopkeeper, James O'Dwyer, and his wife Bridget Hunt. After the death of her mother when she was young, Bates's father remarried and emigrated to America and from the age of twelve Bates was educated in Roscrea by Sacred Heart of Mary nuns at the Air Hill National School .[3] This personal information stands in stark contrast to the Protestant Anglo-Irish origins that Bates would later perpetuate about herself during her time in Australia. Elizabeth Salter writes of how she was born in Ashberry House, 'a rambling old building on the wide wet slope of Caraig Hill in Co. Tipperary' and that Bates, christened in the Church of Ireland, was a 'daughter of privilege' whose education appears to have been completed in a finishing school in Belgium.[4] Bates never wavered on the subject of this Anglo-Irish upbringing and made it clear that she considered herself a member of the upper class Victorian demographic that populated many of Britain's settler colonies. We can presume that Bates perceived her poor, Catholic upbringing as one of such a low status that it would impede her efforts towards self-advancement, and therefore proceeded to disavow this part of her history while creating a new identity.
After Bates left Tipperary she arrived in Townsville, Australia in January 1883 as an assisted immigrant under a Queensland Government Scheme. She spent the next decade in Australia where she married bigamously three times and had a son, Arnold, from her most committed marriage to Jack Bates. But married life as a drover's wife did not suit Bates and she sailed back to England in 1894. Having left her husband and son behind in Australia, Bates spent five years in London and comparatively little is known about this period of her life aside from what she has written herself. Despite arriving with virtually no financial support she managed to quickly procure employment in the world of London journalism. She worked under W. T. Stead, one of the pioneers of investigative and tabloid journalism, and it was undoubtedly his influence on her that typified her later literary output.
Bates was eventually inspired to return to Australia in 1899. Happening upon a letter published in The Times about allegations of cruelty to Western Australian Aborigines by white settlers, she writes in The Passing of the Aborigines of how she 'called upon The Times' and stated that she would go to Western Australia and 'make a full investigation of the charges and to write them the results.'[5] After being introduced to the sphere of Australian anthropology she accompanied Bishop Gibney in early 1900 to Kimberley where she lived for four months at the Trappist Father's Beagle Bay mission and learnt about the customs of the local Aboriginal tribes.[6] Describing herself as 'bitten by the virus of research', Bates spent the remainder of her life living and working with the Aborigines.[7]
Ernestine Hill argues that she 'learnt to think with an Aboriginal mind' and as Bates was gradually more integrated into the various Aboriginal communities she became known as 'Kabbarli', meaning grandmother.[8] In addition to her role as researcher, Bates established herself as a nurse, a healer and a confidante. In 1904, she was commissioned by Western Australia's Registrar-General, Malcolm Fraser, to collect Aboriginal vocabularies for an official publication. During the years 1900-1914 she was made a corresponding member of the British Royal Anthropological Institute and a member of the Australasian Anthropological Society. She also participated in the Cambridge University Anthropological expedition in 1920. That same year, as Justice of the Peace for South Australia, she was asked to arrange a display of Aborigines at her then resident Ooldea camp, in honour of the visiting Prince Edward VIII.
Bates's highly imperialist outlook typified all of her research. She saw herself as an extension of the Crown and an advocate for Victorian values, and as her obsessive fixation with the monarchy became more pronounced throughout her career, her humble rural Catholic Irish beginnings faded into a hidden past life. Daisy Bates's status as a renowned anthropologist eventually diminished, however. Her decline in reputation was undoubtedly aided by her eccentric image as an unchaperoned woman, living alone in a tent in the desert and dressed completely in Edwardian clothing. As Bates's reputation plummeted and funding lessened in line with acknowledgement of her research, she turned to increasingly sensationalised journalism to support her life in the desert. She expounded controversial views about miscegenation and advocated for increased racial segregation. Indeed, the main topic that sold articles, but also simultaneously tarnished Bates's reputation, was her persistence in the belief that cannibalism was practiced among certain Aboriginal tribes. Rambling newspaper articles entitled 'Aboriginal Cannibalism' (August 1921) and 'Mothers who eat their Babies' (March 1928) reported in graphic detail instances of cannibalism among various tribes that she had visited. Inflammatory statements such as 'every adult and boy and girl now wandering along and south of the East-West line has eaten human flesh' were now a part of her repertoire.[9] Criticism from the anthropological community was fuelled by these unfounded claims, and in response Bates increasingly rejected white society. She did not leave the Ooldea camp until 1945, when she was eighty-five.
By the time of her death in 1951, Daisy Bates's life had been dedicated almost exclusively to the Aboriginal tribes: she had studied them, tried to protect them, and pitied them. Her problematic skewing of their culture and racial existence fed her lengthy journalistic endeavours yet ended her anthropological career. Nevertheless, she viewed herself as the leader and saviour of the Australian Aborigines: she seems to have truly considered herself to be their 'Kabbarli'. As Arthur Mee states in his introduction to The Passing of the Aborigines, 'she [had] given her life and her heart to this dying race.'[10]
---
Ann Moroney is a Masters student in Literature and Modernity at the University of Edinburgh. She graduated from Trinity College Dublin in English Literature and History in 2021 and her research focuses on Irish female journalists and travel writers in Empire in the nineteenth and early twentieth century.
---
Would you like to submit a blogpost? Check out our guidelines here or email Dr Deirdre Flynn.
---
[1] Lisa Waller, 'Singular Influence: Mapping the Ascent of Daisy M. Bates in Popular Understanding and Indigenous Policy', Australian Journal of Communication (2010), p. 1
[2] The Argus, Melbourne, 13 February 1945, p. 7 https://trove.nla.gov.au/newspaper/article/1098035?searchTerm=daisy%20bates%20aborigines%20friend&searchLimits=
[3] Bob Reece,"You would have loved her for her lore': The Letters of Daisy Bates', Australian Aboriginal Studies (2007/1), p. 54 and Susanna De Vries, Desert Queen: The Many Lives and Loves of Daisy Bates (HarperCollins, 2013), p. 35
[4] Elizabeth Salter, Daisy Bates: 'The Great White Queen of the Never-Never' (London: Corgi Books, 1973) p. 21-28
[5] Daisy Bates, The Passing of the Aborigines: A lifetime spent among the natives of Australia (London: Murray, 1947), p. 23
[6] Isobel White, 'Daisy Bates: Legend and Reality' in Julie Marcus (ed.), First in their Field: Women and Australian Anthropology (Melbourne University Press: Melbourne, 1993), p. 51
[7] Bob Reece, ''Killing with Kindness': Daisy Bates and New Norcia', Aboriginal History, Vol.32 (2008), p. 129
[8] Ernestine Hill, Kabbarli: A Personal Memoir of Daisy Bates (London: Angus and Robertson, 1974), p. 6
[9] The Australasian Saturday 6 August 1921, p, 49 https://trove.nla.gov.au/newspaper/article/140174619?searchTerm=aboriginal%20cannibalism and the Adelaide Register Thursday 8 March 1928, p. 10 https://trove.nla.gov.au/newspaper/article/57041911?searchTerm=daisy%20bates&searchLimits=%20-
[10] Bates, The Passing of the Aborigines, p. xi