Maria Mulvany is an early career researcher funded by an Irish Research Council Postdoctoral Fellowship. Based at University College Dublin (UCD), Mulvany's project "Ghostly Fictions: Haunting, Trauma and Time in Contemporary Irish Historical Fiction" engages with recent literary, queer and psychoanalytic theories of spectrality to explore how a selection of historical novels by Emma Donoghue, Anne Enright, Sebastian Barry and others frame the relationship between the past and the present in terms of traumatic haunting. It also complicates the synonymic uses of haunting and trauma by exploring the possibilities of pleasure as a supplementary mode of engaging with the spectral presence of the past in the Irish context. In addition to her own research, Mulvany's work is also indebted to interdisciplinary and collaborative research. She has worked on a range of fixed-term digital humanities projects including the Nation, Gender, Genre Project, Joyce Portrait 100 and the Rosamond Jacob Diaries Project. Most recently, she has been involved in the development of open access teaching resources and curricula as part of the Digital Methods and Data Literacies teaching and learning initiative, funded by the National Forum for the Enhancement of Teaching and Learning in Higher Education. She is currently expanding the temporal range of her earlier research into modes of haunting by looking at some 19th- and early 20th-century Irish women writers of supernatural fiction such as Rosa Mulholland, Charlotte Riddell and Dorothy McArdle and has developed the first iteration of a related teaching resource on these writers which can be found here.
This is the fifth interview in the emerging voices series which aims to showcase and promote the work of current doctoral students and/or early career researchers who are working in the field of Irish women's writing in the period between 1880 and 1920.
Q: Tell us a little about your journey as a researcher in Irish literary culture. How did your focus on historical fiction emerge?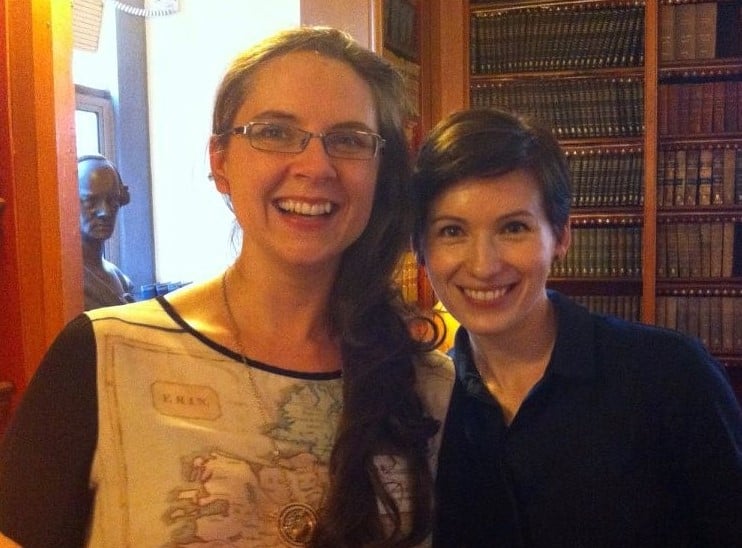 MM: As an undergraduate, I took a great seminar led by Anne Fogarty where I encountered not only the work of Anne Enright, Mary Morrissy and Edna O'Brien, but also feminist and queer approaches to the study of contemporary Irish fiction. From there, I was interested in pursuing some of these theoretical approaches in greater depth and went on to complete an MA in Gender and Writing with Anne Mulhall, Caitriona Clutterbuck, Gerardine Meaney, and many other great feminist scholars at UCD. During this MA, I became particularly interested in theories of embodiment, trauma and sexuality which led to a dissertation on the work of the American writer Carson McCullers. It was during my research into McCullers that I came across Nicolas Abraham and Maria Torok's neo-psychoanalytic work which started me down the road of exploring traumatic inheritance and modes of haunting. These ideas went on to form the kernel of my doctoral research. I started my PhD (co-supervised by the brilliant Anne Mulhall and Fionnuala Dillane) in 2009, just after the Irish economy fell off a cliff so my interest in the notion of the past coming back to haunt and the ways that we conceive of our relationship to the past felt timely. My interest in the temporal aspects of haunting led me to the contemporary historical novel, which is often involved in the retrospective, textual recovery of a historical moment from the perspective of the present. There was a proliferation of Irish historical novels in the early 2000s dealing with hidden histories, the recuperation of forgotten, marginalized figures, and the impact of historical and familial secrets on the living. I became fascinated with how writers like Enright and Donoghue use historical fiction to explore how historical and social practices — particularly those relating to women, sexuality and maternity — positioned women in a weird phantomatic relation to the national, literary and cultural imaginary and how these underlying patterns of occlusion stubbornly persist in the present.
Q: Although your research concentrates predominantly on contemporary fiction, your focus on historical fiction is opening up very productive avenues for inquiry in relation to the network's period of consideration. What role has the period from 1880 to 1940 played in the historical fiction you explore?
MM: Although the historical novels I looked at for my PhD were all published in the early 2000s, their queer temporal structures weave a thread of connection from the 18th to the mid-21st century. They return us to past moments of historical significance that continue to reverberate in the present. For instance, Donoghue's Slammerkin is set in 18th-century London and features a character who spends time in one of the first English Magdalen Hospitals, which invokes the origins of the institutional incarceration of women that became such a huge and horrendous part of managing female sexuality and maternity subsequently in Ireland. Works like Slammerkin and Enright's The Pleasure of Eliza Lynch (set in 19th-century Paraguay) offer textual re-inscriptions of forgotten historical women from earlier time periods and are part of broader feminist recuperations of women in narratives of history. As well as looking at literary modes of feminist recuperation, I'm also interested in Irish women writers of supernatural fiction. I've recently started to look at writers like Rosa Mulholland, Charlotte Riddell and Dorothy McArdle to examine the uses of the spectral in their work, so I find myself constantly moving between different genres and time periods.
Q: The questions you are asking concerning transgenerational trauma and the spectrality of the past in the present are resulting in a very rich project. What new insights on women's writing are emerging from your research?
Over the last 20 years, there's been a huge increase in theoretical and literary explorations of transgenerational haunting in relation to gender, race, sexuality, memory and trauma in different national contexts. I'm particularly interested in ideas about inheritance – inherited modes of attachment, ways of being in relation to one another, within family structures, how trauma at individual and social levels impacts these encounters, and how we write about these things in the Irish context. Feminist, queer, critical race and psychoanalytical scholarship has opened up so many new and exciting modes for engaging with these questions. I've enjoyed engaging with the body of spectral criticism that has developed in recent years to interrogate the representation of historically occluded figures and the 'encryption' of certain modes of relating to the past. My research into how contemporary Irish novelists make use of historical fiction interrogates the transgenerational transmission of state-sponsored, historical discourses of prescriptive womanhood in their work. Hopefully my research will contribute new ways of reading the haunted textures of the contemporary Irish historical novel and by engaging with the psychoanalytic strands of spectral criticism, shed some further light on the underlying structural relationship between women and the Irish historical and literary imaginary.
Q: UCD is at the forefront of developing digital humanities skills and research projects in Ireland via its Centre for Cultural Analytics. Can you tell us a bit about these developments and where you see the major intervention of such methodologies in humanities research?
There are lots of great things happening in the UCD Centre for Cultural Analytics at the moment! Gerardine Meaney's European Research Council Funded Victeur is combining data analytics and literary criticism to explore representations of migrants and works by migrants in Victorian fiction. As part of this project, co-collaborator Derek Greene (School of Computer Science and Insight Centre for Data Analytics) has developed an online platform called Curatr which will be launched later this year. This platform uses natural language processing methods such as word embeddings to facilitate the exploration of thousands of digitised 19th-century books from the British Library. Curatr allows scholars to search thousands of texts at once, and to identify key themes and patterns relevant to their own research questions. Briony Wickes, an ERC-funded research fellow, is currently working on a series of case studies on the representations of Italian, Jewish and Eastern European Migrants in Victorian fiction with the help of the Curatr platform. Colleagues Karen Wade and Lauren Cassidy are also developing a digital platform which will provide online access to historical library catalogues for the Mudie's Online Library project. This project examines how this major institution affected the publishing landscape of the 19th-century English-speaking world and aims to expand our understanding of 19th-century readers. As part of her "Mapping Gothic Dublin: Historical and Literary Hauntings 1820-1900", Katie Mishler (funded by an Irish Research Council Enterprise Partnership in collaboration with the Museum of Literature Ireland) has recently released the interdisciplinary Dublin Gothic podcast which explores the role of Dublin city in shaping 19th century gothic Irish writing and the legacy of Ireland's gothic literary tradition. Just prior to beginning my Ghostly Fictions project, I worked as part of the Digital Methods and Data Literacy Project which provided students with an opportunity to enhance their digital skills, develop their capacity to interpret data, and use digital tools to create their own smaller-scale digital projects. All of these digital humanities projects are making unique contributions to humanities research and teaching and public outreach so it's a great time to be involved in such a vibrant field.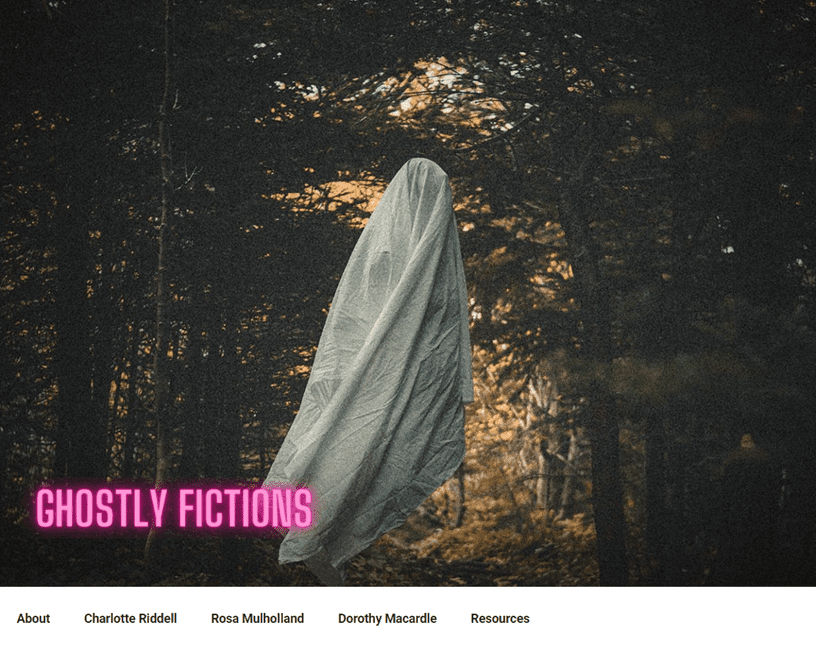 Q: You've worked on a variety of different digital humanities projects. How has your experience on these projects shaped your research trajectory and research questions?
M.M. During the final year of my PhD, I started working as a Research Assistant on Gerardine Meaney's IRC-funded Nation, Gender, Genre: A Comparative Social Network Analysis project of Irish and British Novels 1800-1922. This role involved marking up individual texts for the application of a computer algorithm that would generate visualizations of the imagined social communities in a given novel, helping us to trace the changing relationships between characters over time and providing insights into the social worlds of these novels. Having been trained in traditional scholarly methods, marking up texts like A Portrait of the Artist as a Young Man or Jane Austen's Emma for computational analysis required a different kind of close reading strategy and introduced me to new ways of thinking about narrative construction, plot development and how the social configurations of the novel have changed over time. Since then, I've worked on a host of other digital humanities projects where I've gained valuable experience in large scale project management, the design and delivery of web-based projects for public engagement (like the Rosamond Jacob project and Joyce Portrait 100), the creation of online teaching and learning resources, and the development of project-based digital skills training for our students. My roles on all of these projects have shaped my research trajectory in that they've opened my eyes to new computational approaches to literary research and allowed me to work and write collaboratively with a great team of people on projects at the forefront of digital humanities research.
Q: Among the many big data projects you've been involved in is the Rosamond Jacob Diaries Project. The diaries cover the period from 1917 to 1923. What is the remit of the project and what does it bring to light?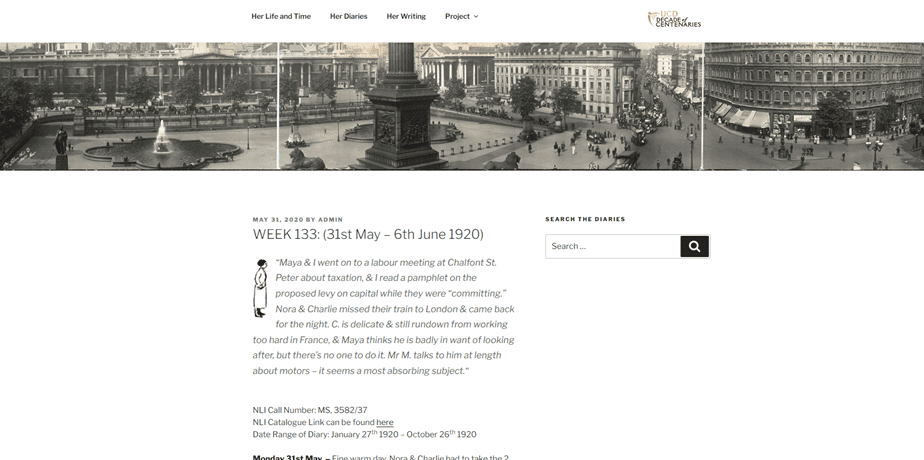 M.M. "The Diaries of Rosamond Jacob: an eyewitness to history in blog format" was designed to transcribe and publish online the diaries of the writer, activist and historian Rosamond Jacob and to make these entries available 100 years after they were written in a searchable, digital format. Jacob's manuscript collection contains a rich archive of 171 diaries held in the National Library of Ireland, covering the period 1897 up until her death in a car accident in 1960. In collaboration with the UCD Decade of Centenaries Programme, the NLI (National Library of Ireland) and Century Ireland, our project digitised Volumes 32 to 43 which cover Ireland's revolutionary period (1917 – 1923). We then set about transcribing these entries in order to make them available together with archival images in a blog format online. These transcriptions are also now forming the basis for an exciting collaboration between UCD School of English and Andrew Smeaton at the Insight National Centre for Data Analytics at Dublin City University (DCU) on an advanced handwriting imaging project. This holds the potential to be a great step towards automating the transcription of the remaining diaries. Digitizing Jacob's diaries will hopefully facilitate much wider academic, scholarly and public interest in such a uniquely personal portrayal of Ireland during the early years of the 20th century. The diaries offer a great feminist portrait of the political, cultural and social landscape of Ireland at the time, and while there's still work to be done, we are getting there!